Webcam und Wetter in New York City, USA: Times Square
Aktuelle Uhrzeit in New York City: 06:10 - Dort ist es zur Zeit Nacht (Sonnenaufgang: 06:54 - Sonnenuntergang: 16:31)
Times Square
- Ein Dutzend verschiedene Kameras blicken auf den Times Square (Broadway/46th. Street) in Manhattan/New York City.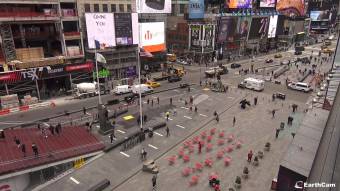 New York City, New York vor 20 Minuten
Karte
Vollbild
Ansehen
Diese Webcam verlinken
Diese Webcam New York City, New York mit dem Thema
Verkehr
wurde am 21.2.2007 eingetragen und wird von
EarthCam
betrieben. Sie wurde bisher 623113 mal angeklickt. Sollte die Webcam oder der Link dorthin
defekt
sein, melden Sie dieses bitte
hier
. Weiterhin haben Sie
hier
die Möglichkeit, diese Webcam zu myCams hinzuzufügen.
Das aktuelle Wetter:
klarer Himmel
Temperatur: 1 °C
Luftdruck: 1011 hPa
Luftfeuchtigkeit: 56 %

Wind: 5 km/h (Stärke 2) aus n/a
Bewölkung: 1 %
Sichtweite: 16 km

Aktuelle Uhrzeit vor Ort: 06:10
Sonnenaufgang: 06:54
Sonnenuntergang: 16:31

(Weehawken vor 7 Minuten)
Weitere New York City, New York-Webcams:


Haze Cam

September 11 Mem...


Little Italy


Freiheitsstatue


Bklyn Battery Tu...


Downtown Manhattan


P.S. 334 - The A...

HD-Stream Skylin...


Statue of Libert...

Times Square


Skyline von New ...

HD-Livestream Ti...


HD-Stream Times ...


42nd Street
Webcams in der Nähe:
Hotels und Ferienunterkünfte in der Nähe von New York City (via booking.com):
Die aktuelle Wettervorhersage in Zusammenarbeit mit wetter.com:
Morgens
Mittags
Abends
Nachts
Heute:
(25.11.2017)

sonnig
5° / 8°C

sonnig
12° / 12°C

leicht bewölkt
10° / 11°C

klar
7° / 9°C
Morgen:
(26.11.2017)

sonnig
6° / 6°C

sonnig
6° / 7°C

sonnig
5° / 5°C

klar
4° / 4°C
Übermorgen:
(27.11.2017)

sonnig
4° / 7°C

sonnig
10° / 11°C

sonnig
7° / 8°C

leicht bewölkt
7° / 7°C